VRAJ ADULT RETREAT – 2019
Saturday June 15 – Saturday June 22, 2019
Vraj and its volunteers Invites all
Adults 31 and older male or female, physically independent,
able to walk at least half a mile every day are welcome to
experience
Spiritually Uplifting, Exciting & Stimulating seven days at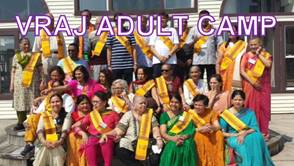 Shriji Darshan, ShriYamunaji Aarati,
Vraj Parikrama, Spiritual Talks,
Debates, Q/A sessions, Yoga/Meditation,
Satsang, Art & Craft Workshops,
Indoor Games, Outing, Raas-Garba Delicious Meals,
Comfortable Accommodation
VRAJ ADULT RETREAT – 2019 Form
Donation: $ 351.00
Registration form and tentative program is attached. Please fill
up the form and mail it with Doctors Medical clearance and
Required documents to Address provided.
You may request to share room with other campers. You may request private room.
Only registered campers are allowed
to be in other campers rooms.




For more information Please email to Mallika Patel at
Mallikampatel29@gmail.com or mcmmpatel@gmail.com